Description
90 Deg Batwing
120 Deg Batwing
135 Deg Batwing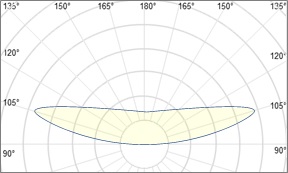 150 Deg Batwing
Cosine™ optical technology and precision extrusion processes combine to provide high efficiency, uniform wide angle light distributions. Designed to be placed directly onto Fusion Optix range of SpekLED™ LED boards to provide high efficiency light in a range of choices including 2700K to 4000K CCT, 80, 90 and >90 CRI and Circadian.
Designed specifically for indirect linear LED lighting products.
Easy to use, fits neatly on SpekLED™ boards.
Batwing angles of 90, 120, 135 or 150 degrees (Super Wide) options.
Optical efficiencies of up to 93%
Available in PMMA, High Temp PMMA, PC, and Silicone (In Development)
Enhanced color reliability and lifetime performance via ColorSure™ technology.
Booster films increase efficiency by 5-10%. Standard lengths up to 10ft.
Also available as continuous run, snap-in or slide-in FlatLENS™.
Significant high volume price breaks.
Manufacturing based 100% in USA.
Full service engineering support available.