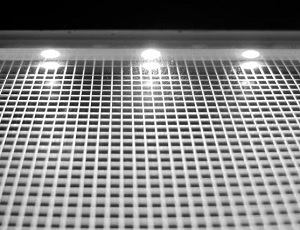 Laser-etched Light Guides
Precision extraction using laser patterned lines and dots
Family of laser etched light guides allow for a wide choice of light distributions and a range of form factors while maintaining best-in-class efficiency, uniformity, and light control.
Family of light guides offering high uniformity levels and high optical efficiency with controlled outputs and lighting distributions. Available in a wide range of materials with standard or custom patterns and light extraction regions.
Fusion Optix employs low-cost, high-volume manufacturing processes with low or zero upfront tooling and design costs. Our goal is to support OEMs in their development of next generation products utilizing edge-lit LED lighting architectures.
Key Features & Benefits
Slim profile with highly efficient and uniform light control
Wide range of viewing angle control capabilities
Available in standard sizes for quick development times
Compatible with LEDs from leading manufacturers (Cree, Osram, LG etc)
Customization options with regard to form factor and light extraction pattern available
Choice of materials including acrylic (PMMA), polycarbonate (PC) and glass
Rapid prototyping available
Full design support from Solutions Group
Showing all 4 results