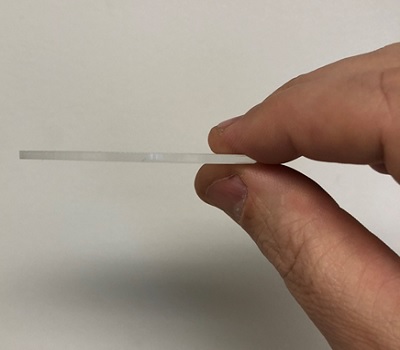 FlatLENS™ Optics
Fusion Optix FlatLENS™ product family of beam shaping profiles and materials is based upon a unique and patented platform of planar micro-optic technologies. FlatLENS™ technology enables the encoding of a range of typical refractive, diffractive and scattering functions into optics that are both thin and flat. This innovative approach provides OEMs developing LED fixtures a wide range of light management properties with easy to implement snap-in or slide-in features.
FlatLENS™ innovations enable high-performance energy-efficient diffuse light in linear LED lighting applications. Particularly well suited to continuous run applications which demand no seams of several tens of metres.
Fusion Optix has invested heavily in a broad range of in-house manufacturing capabilities centred around cutting edge extrusion processes for the production of plastic (PMMA, PC, COC, SAN) optical components. We have also invested in our in-house tooling capabilities with innovative electrical discharge machining (EDM) and 3D printing equipment. Unlike our competitors we are first and foremost an optics company; we understand lighting. Our capabilities push the boundaries and understanding of modern process techniques to produce optical features smaller than the human hair. All our processing equipment is in-house at our Woburn MA facility and in most cases enclosed inside Class10,000 cleanrooms.